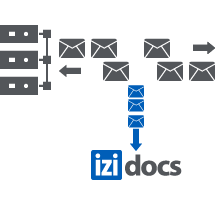 Compliance archive
Izidocs can connect to your email server (Exchange, Office 365, G Suite, or other) and get a copy of all email communications exchanged by your company.
This archive cannot be deleted by users. It is therefore a complete record of all emails and allows system administrators to search for specific emails when these are requested for legal or regulatory purposes.
For example, you can search and find emails exchanged by all or specific employees, with a specific email domain (@example.com), during a specific period.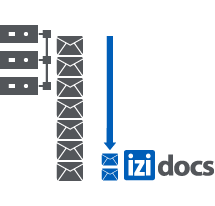 Deduplication
izidocs email archive is a storage efficient way to back up your email server. It performs deduplication on all emails archived saving around 85% of the storage.
Each email is split into its headers, body and attachments
All email headers, which are unique, are saved
Email bodies and attachments which are common among different emails are saved once
The original emails can be reconstructed in their original form to serve as legal evidence.