Document Management
izidocs Document Management Solution can help you manage and protect your company's information. You can import and manage all types of documents including scanned documents, email and all other electronic document formats. You can install izidocs on your premises or in the cloud.
[more]
Document Capture
izidocs Document Capture Solution can help you automate your company's document scanning and indexing. The solution is designed for production scanning operations using high throughput scanners and is compatible with all types of scanners and document management solutions.
[more]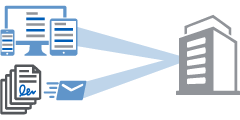 Forms
izidocs Forms Solution can help you automate filling and processing of electronic and paper forms. Users enter repeated information once. Already existing Information is only presented to users for verification. Barcodes automate paper scanning when original ink signatures are required.
[more]